TermSuite UIMA Type System
The Type System is the schema of UIMA annotations contained in the CAS (Common Abstract Structure) passed to all analysis engines of the UIMA pipeline. This section presents the Type System used by TermSuite Preprocessor pipeline, i.e. our data model at Step 1 of terminology extraction.
There are three annotation types in TermSuite. See TermSuite Type System XML file for an up-to-date view of the type system.
org.apache.uima.examples.SourceDocumentInformation
uri:String
offsetInSource:Integer
lastSegment:Boolean
documentSize:Integer
corpusSize:Integer
cumulatedDocumentSize:Integer
documentIndex:Integer
nbDocuments:Integer
fr.univnantes.termsuite.types.WordAnnotation
stem:String
lemma:String
gender:String
case:String
mood:String
tense:String
tag:String
formation:String
degree:String
category:String
subCategory:String
person:String
possessor:String
regexLabel:String
labels:String
fr.univnantes.termsuite.types.TermOccAnnotation
termKey:String
word:WordAnnotation[]
pattern:StringArray (an array of UIMA Tokens Regex labels)
spottingRuleName:String (the name of the UIMA Tokens Regex rule that spotted this term)
Terminology Data Model
This section presents the data model used by TermSuite terminology extractor pipeline and TermSuite Java API, i.e. our data model at Step 2 of terminology extraction.
Class diagram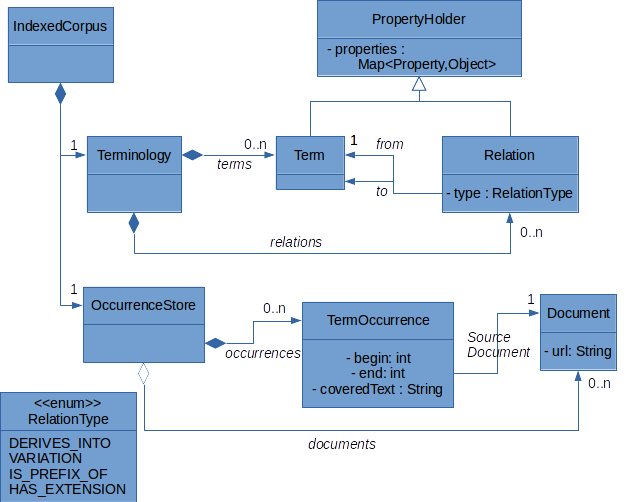 As any graph structure, a Terminology is a container for a collection of Terms (the nodes) and a collection of Relations (the edges). Both Terms and Relations are PropertyHolders, ie. every term and relation has a set of properties held in a key-value store.
As TermSuite has the ability to keep track of all terms occurrences while they are spotted and gathered. This is the purpose of the OccurrenceStore, which holds a collection of Documents and TermOccurrences.
The IndexedCorpus simply is a container for the Terminology and its OccurrenceStore.
Relation types
As illustrated in class diagram above, relations are typed. There are currently four types of relation: